Tactical life preserver with multi-sensor electronic inflation device for advanced boarding capabilities
Self-inflating life preserver in a tough Cordura® cover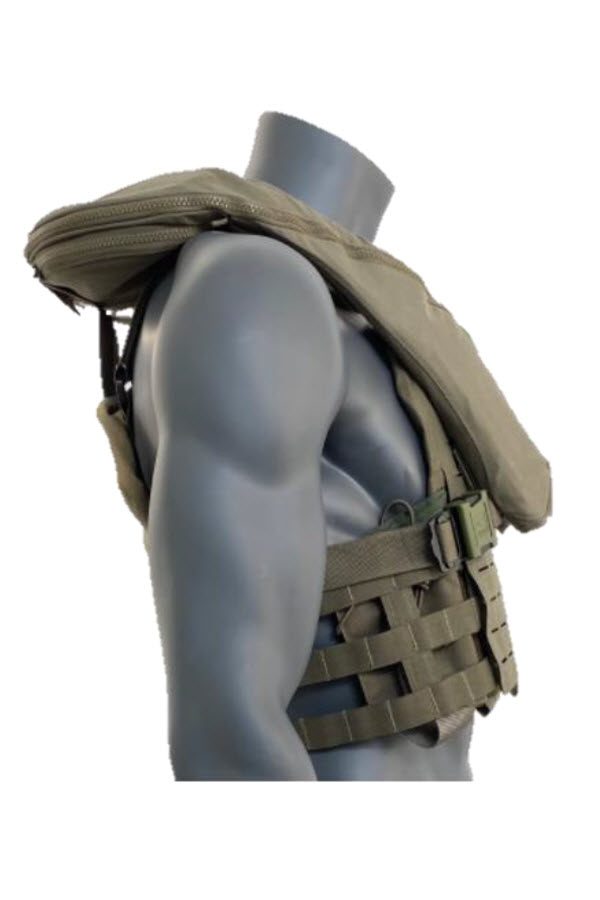 300N Winglet buoyancy chamber
The Winglet design buoyancy chamber provides approximately 300 N (≈ 30 kg ≈ 67 lbf. ) of buoyancy. An orange buoyancy chamber fitted with retroflective stripes is available as a product variant.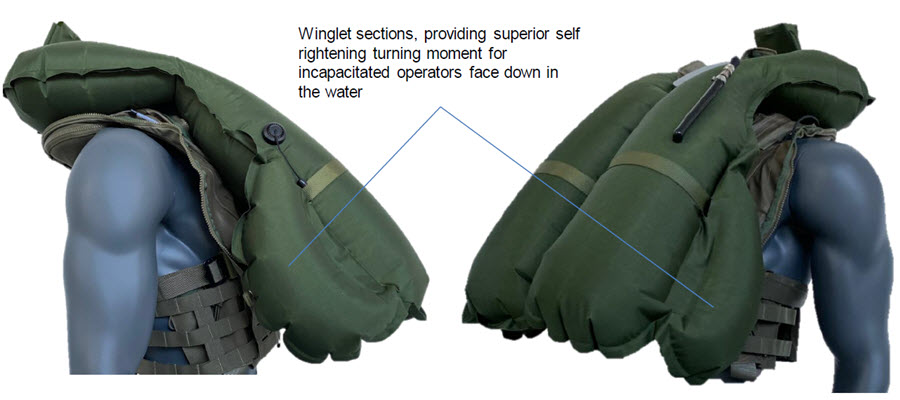 Fast surfacing
Excess capacity CO2 cartridge (75 g), ensuring fast surfacing even after massive immersion.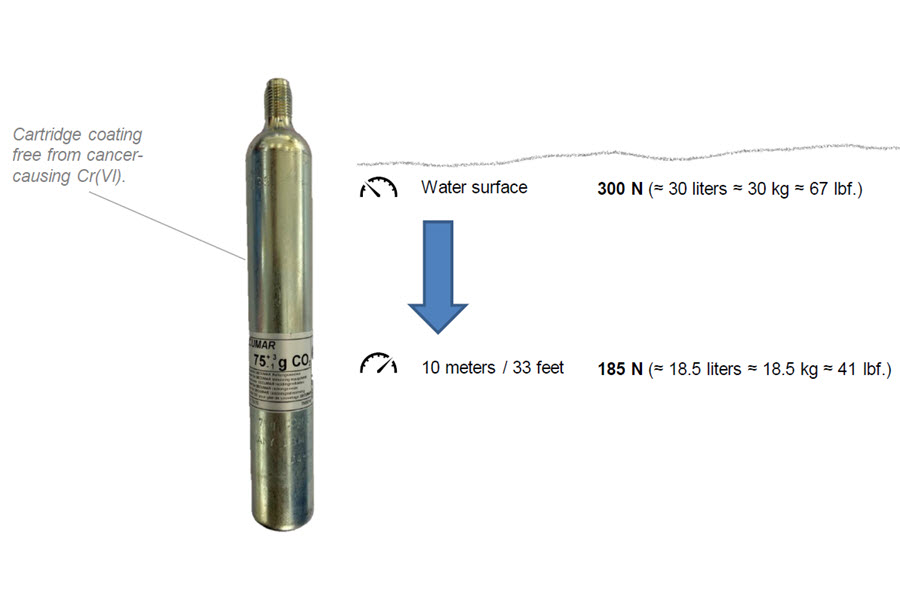 Inflator in the neck
The SECUTRONIC inflation device and CO2 cartridge are in the neck section for maximum space in the front.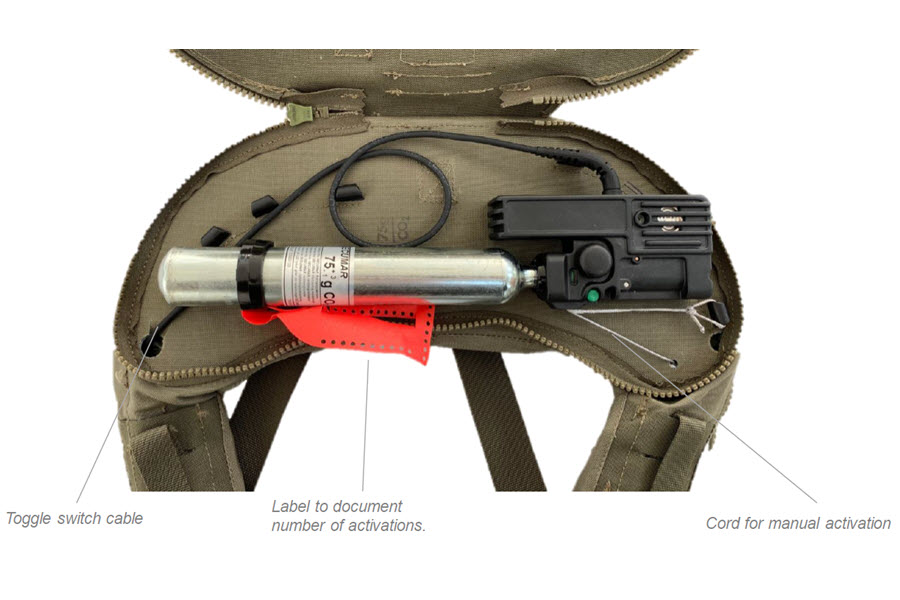 SECUTRONIC Electronic Inflator
The SECUTRONIC is an electronic multi-sensor inflation device that can detect water and water depth.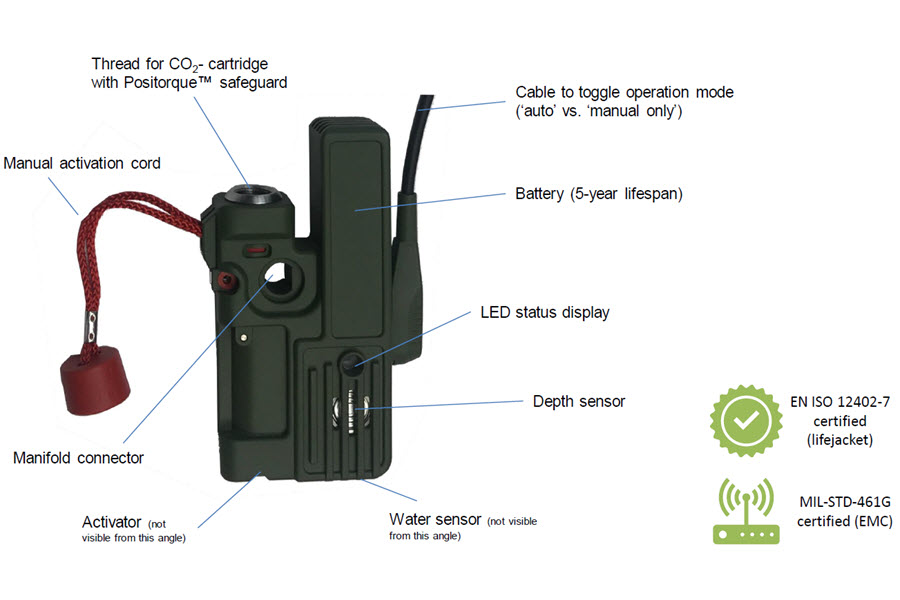 SECUTRONIC Toggle Switch
The toggle switch can easily be reached and operated even with gloves on.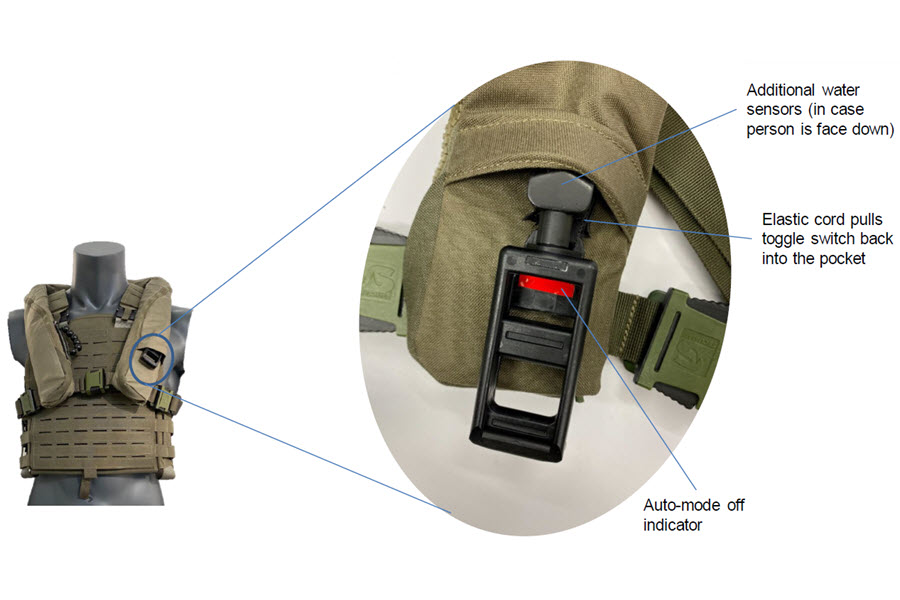 SECUTRONIC State Diagram
The SECUTRONIC inflation device supports automatic mode with delayed inflation and manual-only mode.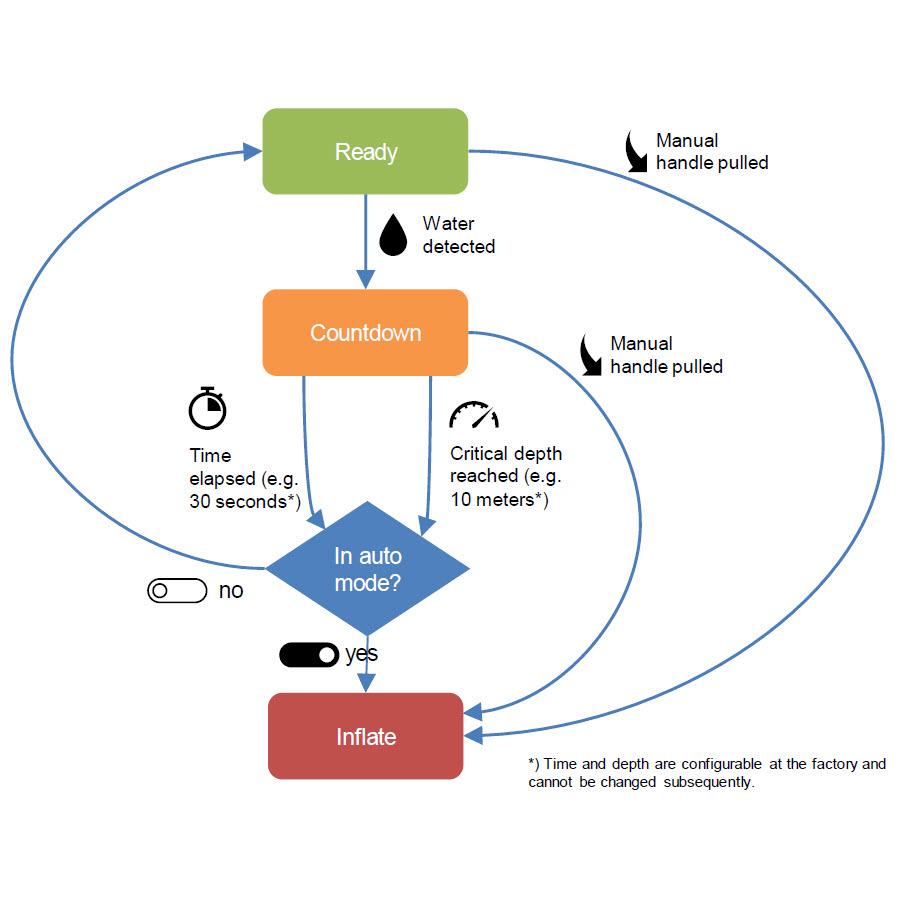 Scenarios
Functionality of the SECUTRONIC electronic inflation device in different scenarios.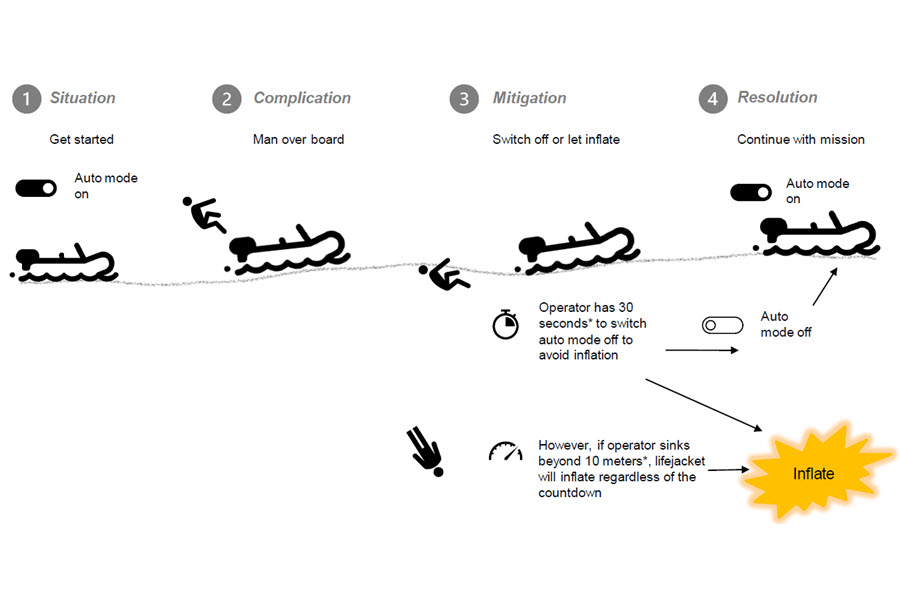 Q&A
Q: Can the inflator configuration (countdown time and critical depth) be changed by the operator?
A: No. Countdown time and critical depth are set during manufacturing and cannot be changed thereafter.

Q: What if we need different configurations for different missions?
A: SECUMAR can provide inflation devices with different configurations. Install the inflation device with the needed configuration.

Q: 75 g of compressed CO2 inflate to more than the buoyancy chamber's 30 liters. Why don't you fit a 60 g cartridge instead?
A: While the product still works with a 60 g cartridge at the water surface, 75 g ensure that the buoyancy chambers inflates also at some depth (approx. 185 N in a depth of 10 meters).

Q: Is the product certified against regulation (EU) 2016/425, allowing the CE marking?
A: The certificate and CE marking is available for some product configurations.
Key Facts
Self-inflating life preserver in a tough Cordura® cover
Can be used standalone or with a plate carrier
Winglet™ design buoyancy chamber providing approx. 300 N (≈ 30 liters ≈ 30 kg ≈ 67 lbf. ) of buoyancy
Excess capacity CO2 cartridge (75 g), ensuring fast surfacing even after massive immersion, cartridge coating free from cancer-causing Cr(VI)
Electronic multi-sensor inflation device supporting automatic mode with delayed inflation and manual-only mode
Modes can be toggled by operator during mission – no pre-mission lock installation required
No tools needed for re-arming after activation, necessary steps can be performed by operator, no expert qualification required
Developed, engineered and manufactured by a lifejacket specialist, family-owned business, 4th generation, ISO 9001 and SOLAS certified quality management system
Cage Code D2168
Factory near Hamburg, Germany, open to customers for visits