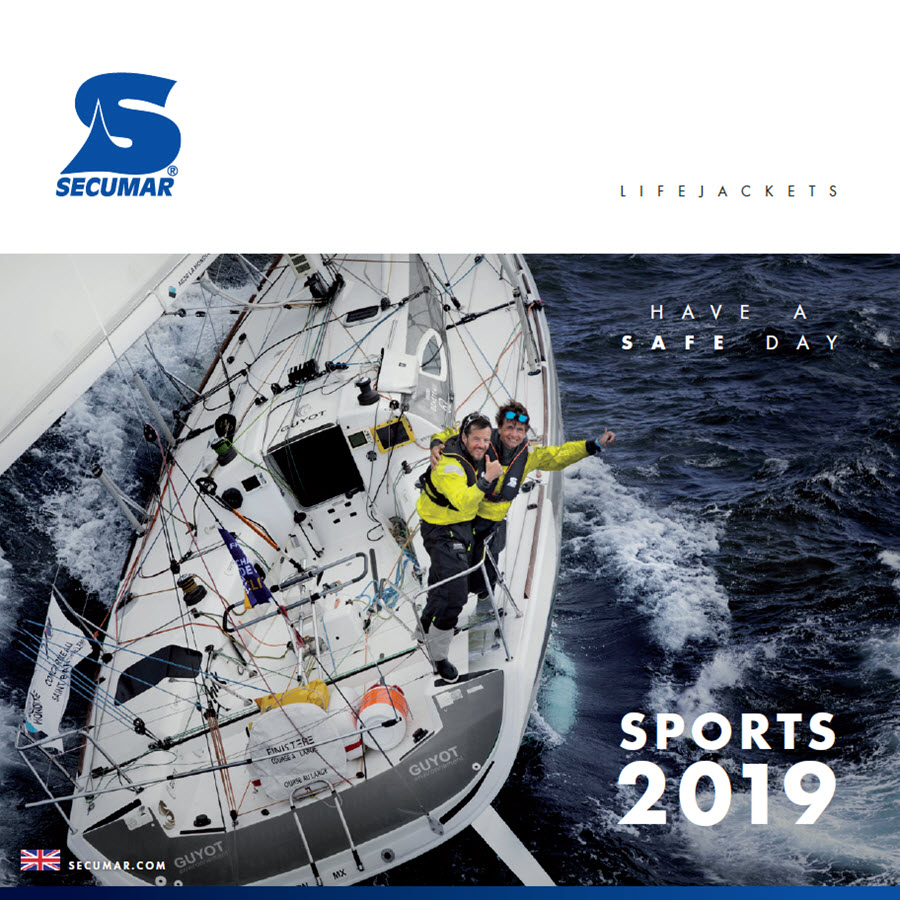 Safety, allied to good design, colours and excellent materials – this is what distinguishes the newly designed lifejackets from SECUMAR. With the updated SURVIVAL series and the new colours of the ULTRA range, the 2019 boating season will be really looking good!
New SURVIVAL Series
The proven SURVIVAL models of the 275 N buoyancy class, also available with a double-layer 'twin skin' DUO PROTECT system, are still ideally suited for wearing with foul-weather clothing. Available in navy blue and black, they are upgraded with a sharp looking orange zip.
The SURVIVAL 220 range, also equipped with the quick-turning 'winglet' buoyancy chamber like the larger 275 N lifejackets, will be available in attractive colour combinations next season of light blue/blue/orange and light grey/grey/orange.
While this ergonomically designed lifejacket with its padded back offers the best possible wearer comfort, another important detail has changed. The metal D-ring on the harness for 'clipping on' is history – it has been replaced by a light, flexible and durable loop made of special textile fibres.
The lifejackets of the SURVIVAL series are supplied as standard with a sprayhood and of course all models can be retrofitted with an emergency light and PLB.
Hawaiian Ocean
The ULTRA 170 series lifejackets – with and without harness – will not only be available in the sporty black/orange design, but also in lighter colours in the combination of Hawaiian Ocean Blue/light grey/orange. Additional safety is now available for all ULTRA models in the form of an aftermarket accessory pack consisting of a nylon sprayhood and an LED lifejacket light.
New JUNIOR
New colours too for the kids! The JUNIOR children's lifejacket for boys and girls with a body weight between 20 and 50 kilograms will be available in light blue/orange next season.
If you would like to see the new SECUMAR collection, you have the opportunity at: METS TRADE, Amsterdam, 13th to 15th November, 2018 (Stand O5.241), Nautic, Paris, 8th to 16th December, 2018 (Hall 2.1-B34) and at boot Düsseldorf, 19th to 27th January, 2019 (Hall 11 Stand D42 and Hall 8 A Stand F 36).
Media information
All pictures and press releases for our new product releases for 2019 can by donwloaded in in our password protected SECUMAR media information. If you don'Ät have access yet, please apply by e-Mail an info@secumar.com or through our contact form.
About SECUMAR
Bernhardt Apparatebau GmbH u. Co. in Holm, near Hamburg, Germany, manufactures innovative products for the saving of life at sea for both the leisure and professional markets. Constant innovation and unrelenting quality control have both served to position the company as a world-wide leader in its field. Further information can be found by e-mail to info@secumar.com or call +49 (4103) 125 0.
November 2018, may be reproduced free of charge, receipt requested.
Bernhardt Apparatebau GmbH u. Co.
Bredhornweg 39
D-25488 Holm
Tel.: +49 (4103) 125 0
Fax: +49 (4103) 125 100
E-Mail: info@secumar.com or through our contact form