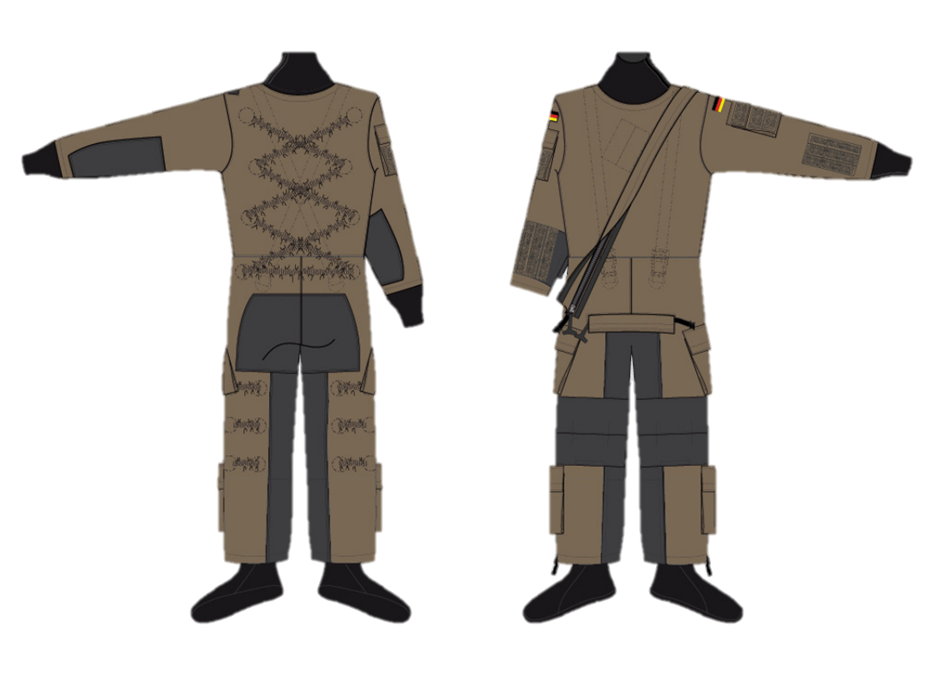 The SECUMAR CONTRA 150 SF is a waterproof immersion suit for all missions and work in or around water. Breathable thanks to GORE® 3-layer laminate.
The lightweight and breathable material as well as the ergonomic fit with elastic bands in the back area and legs support the wearer in his freedom of movement. Three pairs of gloves, a lined hood, a neoprene hood and a variety, partially freely adaptable, pockets belong to the extensive accessories.
The suit protects against hypothermia in cold waters and should be worn at all times on or around water, when there is a risk of unintentional immersion in cold water. It can be worn over functional wear or thermal underwear and does not restrict the wearer's freedom of movement.
General Information
| | |
| --- | --- |
| Type | CONTRA 150 SF |
| Approval | EN ISO 15027-1 |
| Colour | Stonegrey-olive |
| Weight | Approx. 2,2 kg |
| Limits of use water temperature | +2 °C to +30°C |
Technical Details
Outer material
Waterproof and breathable 3-layer GORE-TEX® laminate
Boot material
Neoprene
Seals
Double neoprene at the neck and the wrists, adaptable with neoprene balaclava and neoprene gloves
Equipment
• Hood (lined, removable)
• Balaclava (neoprene)
• Gloves (1 pair, neoprene, thin)
• Gloves (1 pair, neoprene, thick)
• Overgloves (1 pair, water-repellent)
• Urination zipper with cover; cover with reinforcement (rubber handle) at the front for easier opening
• Valve at the right forearm for inflation or deflation of the suit
• Rubber gathering in the back and at the hind legs for a tight fitting
• Velcro pads on both upper arms for nationality tags
• Velcro pads at the forearms for the mounting of adaptable pockets
• Leg cuffs made from the outer material, with lateral, external zippers and safety push button
• Braces (inside the suit)
• Repair kit
• Carrier bag with stow away pockets
Reinforcements
• At the buttocks, elbows, knees and the inner side of the legs, made from Kevlar® fabric with silicone-carbon-coating.
• The reinforcements of the elbows and knees have open pockets for the mounting of corresponding knee- and elbow pads with lateral incisions for a better buckling behaviour.
Pockets
• Upper arm pockets with velcro pads/ right side dimensions: approx. 15.0 x 8.0 x 3.5 cm/ left side dimensions: approx. 12.0 x 17.0 x 2.0 cm.
• Outer pockets at the lower legs (left and right)/ dimensions: approx. 20.0 x 5.0 x 3.0 cm.
• Thigh pockets/bellow pockets (left and right) with internal rubber tab/ dimensions: approx. 15.0 x 18.0 x 4.0 cm.
• Inner pocket/ dimensions: approx. 11.5 x 16.0 x 1.0 cm.
• 4 waterproof, adaptable pockets with waterproof zipper at the front/ dimensions: approx. 14.0 x 20.0 x 0.5 cm/ 2 with and 2 without transparent topside/ all backsides with velcro straps.
• All pockets that are not waterproof are lid pockets with velcro closure (the velcro surface bigger is than the holding surface), with water drainage at the bottom, and with non-metallic eyelets in D-form at the transition from the pocket to the lid. The lid is reinforced (rubber handle) at the front.
Insulation
Thermal protection class C (acc. to EN ISO 15027-1)
Water temperature / Estimated thermal protection:
0 °C / 2,3 h
< 5 °C / 2,8 h
5-10 °C / 3,8 h
10-15 °C / 7,1 h
15 °C / ∞
The specifications apply to undergarments according to EN ISO 15027-1
(not included in delivery).
Detailed illustrations